We take pride in delivering world-class service to all of our customers. Read what some of our satisfied clients have said about us!
We are very well reviewed on Yelp, Google, and Apartmentratings.com, winning awards regularly.
Awards:
#PeopleLoveUsOnYelp! – 2016, 2017, 2018, & 2020 Award Recipient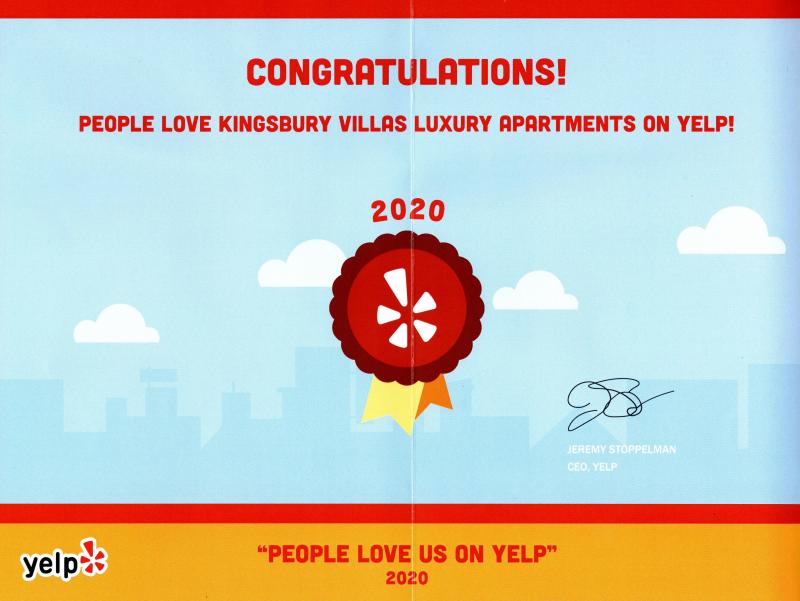 2015, 2016 & 2017 ELITE 1% ORA™ POWER RANKINGS
J.Turner Research announces the 2017 Elite 1% ORA™ Power Ranking of properties for online reputation in the nation. Now in its fourth year, the annual ranking is based on an exhaustive research of over 71,000 properties across multiple review sites. It is released in association with their media partner, Multifamily Executive. A total of only 977 properties out of over 71,000 made it to the ORA™ Elite club in 2017.
Testimonials
Kingsbury Villas is a great place to live. My apartment was comfortable and quiet, and the complex has a nice community feel about it. The manager, Jen, is very helpful, and really cares about making sure that the tenants have a pleasant experience living here. Maintenance is great, and everything is well kept.

-quote from https://www.apartmentratings.com/ca/granada-hills/kingsbury-villas_818363154191344/
I had the best experience when I lived here from March 2013-March 2014. My small dog did too 🙂 . We loved the park, proximity to freeway, grocery, library, the gym and the mall. It was never bothered by any noise and I don't think I bothered anyone with mine either. My one bedroom was absolutely beautiful and very well prepared for my move in, then well-maintained while I was living there. The intercom with "buzz in" feature was convenient. I had great cell phone signal. Laundry room was always clean (24hours too, if I remember correctly. very convenient). My apartment had tons of closet space both in the bedroom for clothes and the main area for other household storage. But Jen the manager was the best part of everything! I know she made it all happen, at the same time she always kept her calm, friendly demeanor. I only moved for work reasons and because my family was growing by 6'1 (my fiance) and 4 paws (his dog, who is not apartment-sized). Thanks for everything Jen!!!Just so you know this is an honest review, here are some honest, less than ideal things–neighbors (from the other buildings, I'm guessing since that's where it's in front of) don't pick up their dog poop, street parking is tricky at certain times (but at least it's free!! but I would just move my car out of the garage at times when I did see a spot, and let guests use the garage)….that's all I can remember!!

– quote from https://www.yelp.com/biz/kingsbury-villas-luxury-apartments-granada-hills
The manager, Jennifer, has continued to offer me comfort in a safe and quiet atmosphere. Yes, the complex is quiet! She keeps an eye on things which helps keep everything looking nice and working properly. After a day of rushing around from point a to b, it's a joy to come home to a place that is attended to very quickly and frequently. They check the units for water leaks in kitchen, bathrooms, damage, and check with the tenant with any problems. It's pretty obvious that the owners are proactive toward maintaining the complex to keep it nice. This complex has some great features. I occasionally get the urge to have a cookout, rather than just cook on a stove. My daughter appreciates having the laundry room on premises. Doing laundry no longer means a car ride and a long, uncomfortable wait. With a little additional security deposit, you can have a pet here. My personal favorite is that we have a pool right outside our apartment door. It's not huge, but considering I would have done anything to swim in a clean pool like this growing up, I am more than satisfied. And, the pool is available from 10 a.m. to 10 p.m. I rush home for an evening swim! Home isn't just a place; it's a feeling. Home is a place of love and comfort that always welcomes you with open arms―and maybe some good laughs and fond memories. I feel grateful to be able offer a safe home to my daughter that's close to stores, restaurants, a movie theater, and a good school where she wants to learn. I want to tell people I live in a great location within a great neighborhood. I'm proud to call Kingsbury Villas my home.

-from a Google Search